Schweizer Fest
City Hall Park. Park and Main Streets
Tell City, Indiana

Outdoor street festival features live entertainment, bicycle race, road rides, golf open, tennis tournament, flea market, beer garden, carnival rides, diaper derby, teen garden, food. Speaking of food, be sure to visit the Tell City Band Boosters Stand. Boosters will be serving: hamburgers, cheeseburgers, funnel cakes, Tell City Pretzels, and a variety of cold refreshing drinks.
The Tell City Band opened festivities on Wednesday evening, by taking center stage as they entertained the audience, with a wide variety of music.
A celebration of the area's Swiss-German heritage held annually since 1958.
Information: Perry County CVB (888) 343-6262 or Perry County Chamber of Commerce (812) 547-2385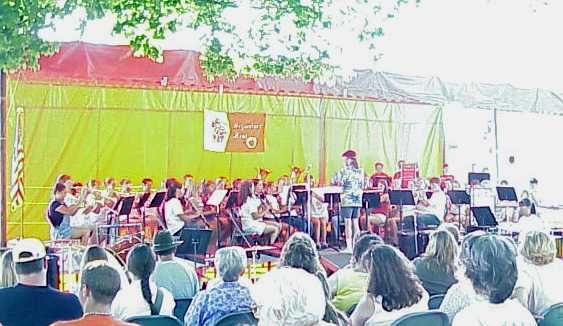 Tell City High School Band - Barry Reasoner conducting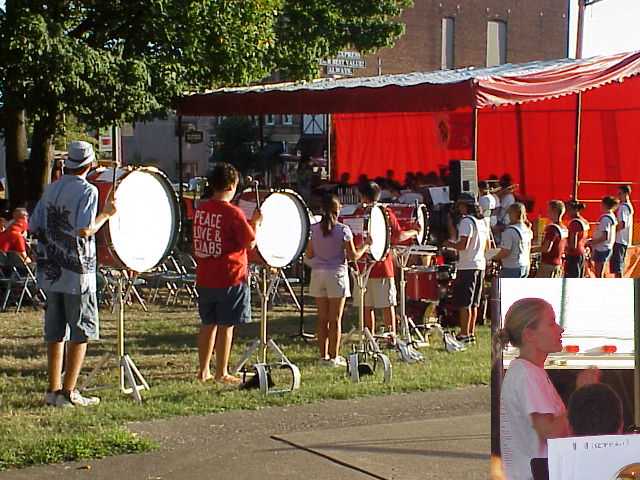 Foreground, perussion members - Tell City High School Band
inset, drum major, Amanda Fenn conducting